Published: Tuesday, June 26, 2018 12:30 PM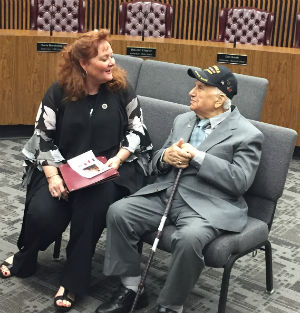 Last week, State Senator Laura Murphy (D-Des Plaines) congratulated Xenophon Doudalis on being awarded the French National Order of the Legion of Honour for his services in the U.S. Army during World War II.

The Consul General of France in Chicago awarded Doudalis the highest French government order recognizing military and civilian merit during a ceremony at Des Plaines City Hall.

"Sergeant Doudalis' courage, sacrifice and devotion to duty played a significant role in the defeat of the German Army in France during World War II," Murphy said. "I am truly honored to serve as his State Senator and I thank him for the personal sacrifices he has made to preserve our freedom at home and to keep us safe."

Doudalis, a resident of Des Plaines since 1962, served in the U.S. Army during World War II from August 1943 until March 1946 as an engineer and helped construct bridges so that American tanks under the direction of General Patton could cross into Germany.

While serving in the 281st Engineer Battalion, Doudalis' unit helped liberate French cities and villages between Le Havre and Filstroff. He was one of the first American soldiers to enter the Dachau concentration camp in 1945 to liberate its prisoners.

During his time in the Army, Doudalis rose to the rank of Sergeant and was awarded two Overseas Service Bars, the Expert Rifle Medal, the Good Conduct Medal, the America Theatre Service Medal and the European African Middle Eastern Theatre Medal.

Murphy thanked Doudalis and expressed her gratitude for his service. She presented him with a Senate certificate of recognition.