Published: Thursday, December 03, 2015 02:44 PM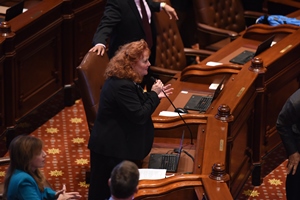 SPRINGFIELD- State Sen. Laura Murphy (D-Des Plaines) issued the statement below following a bipartisan vote in the Illinois House to release nearly $3.1 billion in critical funds that have been held up due to the ongoing state budget impasse.
"It is past time to release these funds to local communities to prevent the impending layoffs and property tax increases many were being forced to consider. It is unacceptable and immoral that so-called Illinois leaders have taken this long to approve funding that taxpayers have already paid.
"I am encouraged that finally, after months of waiting, the budget is beginning to take shape. While I look forward to supporting this proposal next week to give Illinois communities the stability they desperately need, this is only the first step. We must continue to work together in a bipartisan fashion to protect funding for MAP grants for college students and other services essential to Illinois families," Murphy said.
Murphy is a Chief Co-Sponsor of the proposal, SB 2039. It must first pass the Senate next week before it is sent to the governor. The legislation also includes:
• $1 billion to the Lottery for prizes.
• $582.5 million to IDOT for local governments share of motor fuel gas tax revenues.
• $43 million to the Community College Board for career and technical education activities.
• $45 million to the Dept of Revenue so local governments can receive their share of video gaming proceeds.
• $3.1 million to the Illinois Math and Science Academy to allow them to access their income funds and pay operating costs.
• $31 million to IDOT to purchase road salt.
• $2.5 million for breast cancer services and research.
• $28 million for nursing home licensing and inspections.
• $165 million for home heating bill assistance.
• $77 million for 911-related costs.
• $3.1 million to the Illinois Department of Public Health for the Tobacco Quitline.
The Illinois Senate is scheduled to convene Monday, Dec. 7 for a planned vote on the authorization.