Published: Wednesday, May 30, 2018 09:08 PM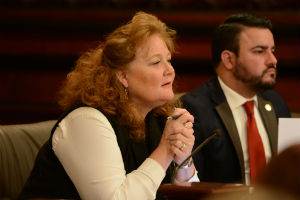 SPRINGFIELD — State Senator Laura Murphy, a Des Plaines Democrat, today supported a bipartisan balanced budget plan that supports local communities and prevents a backdoor property tax increase.

"It was imperative to me that we did not shift massive pension costs onto local school districts and create a backdoor property tax increase as the governor proposed," Murphy said.

"Shifting pension costs onto school districts would have undermined the new evidence-based school funding formula and forced many local communities to raise taxes. That was not something I could stand for."

The governor's proposed budget sought to push nearly $500 million in normal pension costs onto school districts this year.

The plan also includes $25 million for a new pilot grant program for Illinois undergraduate middle class students who choose to pursue higher education in the state. Through the AIM HIGH grant, the state would provide matching funding to public universities that award scholarships to Illinois students for both merit and financial need.

"Illinois has a serious problem with students leaving the state once they finish high school to pursue their college education elsewhere," Murphy said.

"Many of them never return, representing an enormous brain drain with significant financial implications. I hope this new program will encourage more students to attend college in state."

In addition to the AIM HIGH program, the budget includes nearly $60 million in additional funding to support Illinois colleges and universities over last year's funding level.

The budget package now moves to the House for consideration.