Published: Monday, January 25, 2016 11:03 AM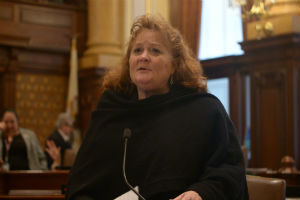 SPRINGFIELD – Due to the ongoing budget impasse, Lutheran Social Services of Illinois (LSSI), the largest social services provider in Illinois, announced last week it will eliminate nearly 30 programs and lay off 750 workers.
The program cuts will affect 4,700 low-income seniors, children and disabled veterans from all areas of the state. In Des Plaines, LSSI is eliminating mental health counseling for children and families. State Senator Laura Murphy (D-Des Plaines), served as the former director of business services for the Alcoholism and Drug Dependence Program of LSSI for five years in the late eighties and is committed to finding a bipartisan solution to fund these programs.
"These programs are absolutely essential to our community, and eliminating them will have a long-term impact on our state," Murphy said. "Every dollar that is invested in these services to serve disabled veterans or help seniors stay in their own homes saves taxpayers millions of dollars in the long run."
Next week, Governor Rauner does have an opportunity to present a new path forward during his second State of the State Address.
"The governor has a chance to start fresh next week and present a plan to the General Assembly to protect low-income seniors, children and those with mental illnesses. It's time to pass a budget to stop the damage being inflicted on Illinois," Murphy said.