Published: Friday, March 17, 2017 04:15 PM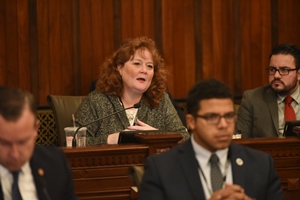 SPRINGFIELD – Only about 18 percent of Illinois companies have women on their corporate boards, despite a recent study by the Credit Suisse Report that shows that companies with women on their boards tend to be less risk-averse and have higher income growth.
State Senator Laura Murphy is authoring Senate Resolution 140, which encourages more equitable and diverse gender representation on corporate boards and urges corporations in Illinois to increase the number of women on their boards.
"Women are a vital part of our nation's workforce, and it's past time for them to be represented at the highest level in their companies," Murphy said.
Murphy is sponsoring the initiative on behalf of Women on Boards 2020, which aims to have company boards made up of at least 20 percent women by 2020.
Murphy's resolution passed a key Senate committee this week and is now headed to the full chamber.