Published: Thursday, July 12, 2018 09:01 AM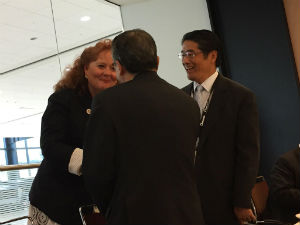 Earlier this week, State Senator Laura Murphy (D-Des Plaines) toured the Amada America Inc. facility in Schaumburg with Japanese Ambassador to the U.S. Shinsuke Sugiyama and Consul General Naoki Ito.
"I am excited about the opportunity to strengthen our relationship with Japan and to work collaboratively to promote job growth in Illinois," Murphy said.
The Japanese ambassador is touring facilities across the Midwest as a part of his Grassroots Caravan. Amada has a 133,000 square foot facility in Schaumburg, which showcases its advancement in laser cutting, automation and manufacturing.
"Schaumburg is an excellent place to live and work," Murphy said. "Schaumburg District 54 has great schools that offer dual-language and immersion programs in Japanese, Spanish and Chinese, making this community a prime location for global business opportunities. "