Published: Friday, October 07, 2016 02:11 PM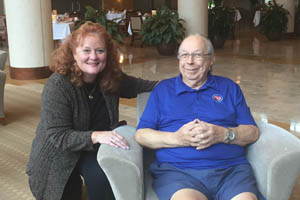 SCHAUMBURG – When 91-year old Leroy Wolff received a letter in May stating nearly $40,000 in stock he owned had been transferred to Illinois' unclaimed property division, he didn't know where to turn.
"The letter stated the account had been determined to be inactive due to correspondence from the company being returned," Wolff said. "It didn't make any sense. I was reading a letter from the company saying correspondence had been returned. I was dumbfounded."
Wolff, a native of Chicago's Humboldt Park neighborhood who now resides in Friendship Village of Schaumburg, tried resolving the issue with the company, Duke Energy, to no avail. He discussed his predicament with State Senator Laura Murphy (D – Des Plaines) at an event held at Friendship Village a few weeks later.
"I consider myself lucky the senator was here talking with the seniors," Wolff said.
Read more: How Senator Murphy helped suburban man reclaim $40,000 in lost stocks