Published: Thursday, February 16, 2017 04:45 PM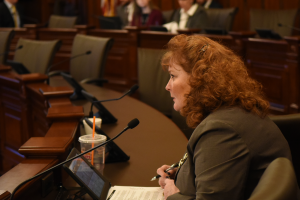 SPRINGFIELD – State Senator Laura Murphy on Wednesday helped block a measure that would have made it more difficult for women to access reproductive health care services in Illinois.

Senate Bill 78 would have prevented state agencies from contracting with facilities that perform abortions. Murphy and five other Senate Democrats stopped the legislation from advancing out of the Senate's Public Health committee.

"At a time when President Trump is attempting to strip away women's access to health care, we must continue to fight to protect these rights," said Murphy, a Des Plaines Democrat. "I will continue to stand up to overreaching proposals that set women's rights back decades."

The legislation was opposed by Planned Parenthood of Illinois, Men4Choice, Metropolitan Chicago Breast Cancer Task Force and other organizations that support women's health.

Senate Bill 78 failed 3-6 in committee.