Published: Wednesday, January 11, 2017 02:53 PM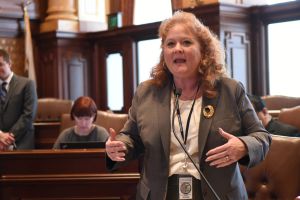 SPRINGFIELD- State Senator Laura Murphy (D-Des Plaines) joined with her colleagues in the Senate to support a 10-year term limit for the President of the Senate and Senate Minority Leader. The term limits were put in place by a change to the Senate Rules.
Murphy has been a leading advocate for term limits since she sponsored a Constitutional Amendment to enact them when she joined the Senate in 2015.
"Term limits for legislative leaders is the top concern I hear while talking to constituents in my community," Murphy said. "I have heard them and agree – leadership positions are not meant to be lifetime appointments."
The term limits became effective following approval of the Senate Rules for the new General Assembly.