Published: Thursday, January 28, 2016 03:11 PM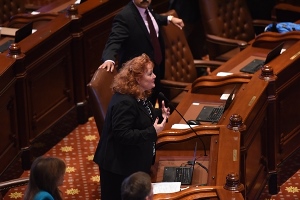 SPRINGFIELD – Nearly 120,000 Illinois students are facing an uncertain future as a result of the governor's veto of Monetary Award Program grant funding last spring.
While many colleges and four-year universities were able to continue to provide funding for students during the fall semester, nearly 1,000 students were unable to return to school in 2016 as some schools' funding dried up.
To provide some stability for students, the Illinois Senate passed Senate Bill 2043, co-sponsored by State Sen. Laura Murphy (D-Des Plaines).
"MAP grant funding is one of the few resources available to working families to make the skyrocketing costs of college tuition more affordable," said Murphy. "Eliminating this funding is short-sighted and will have a long term impact on students and our state work force."
The proposal also includes $260 million in funding for community colleges, which remain unfunded during the budget impasse.
"We must continue to invest in our community colleges, like Harper and Oakton Community College, to give students the opportunity to go to school, earn an education and achieve the American dream. Failing to invest in these programs fails an entire future generation," Murphy said.
The proposal passed the Senate with a vote of 36-12-3 and will now head to Gov. Rauner's desk.