Published: Tuesday, February 23, 2016 04:55 PM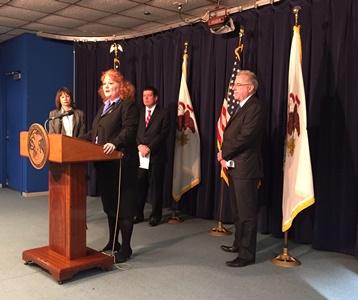 Chicago - On Tuesday, a group of legislators from Chicago and the suburbs announced their bipartisan effort to help bring relief to the more than one million residents impacted by adverse noise from O'Hare International Airport.
According to Rep. Christine Winger (R-Wood Dale) many constituents have suffered the endless noise from O'Hare for many years. Others are experiencing the excruciating ill effects of aircraft noise for the very first time with the addition of the newest runway that opened last October. Still more can expect to join the ranks of those enduring aircraft noise when future runways become operational.
"Our constituents are discouraged by the seeming lack of concern by the Chicago Department of Aviation and the FAA," said Winger. "Their daily lives are in the hands of these two entities whose missions, quite frankly, do not include protecting the health and quality of life of area residents. That's why we need to get involved."
State Representative Michael McAuliffe (R-Chicago) and Senators Laura Murphy (D-Des Plaines) and John Mulroe (D-Chicago) joined Rep. Winger in outlining their legislative plan that would reduce the noise level from O'Hare, help constituents soundproof their homes and identify the ill effects of O'Hare on the people living in the communities impacted by noise.
"Every day I hear from my constituents about the difficulty of living near O'Hare because of recent moves being made beyond their control, said Rep. Michael McAuliffe. "We're calling on our friends in the legislature to help us fight on their behalf."
Read more: Lawmakers Announce Bipartisan Effort to Help Families Impacted by Expansion of O'Hare