Published: Monday, December 07, 2015 03:14 PM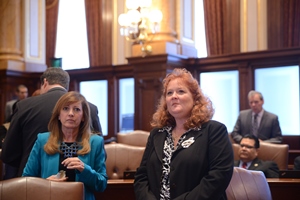 Springfield – State Senator Laura Murphy (D-Des Plaines) co-sponsored legislation today to bring taxpayer money, withheld due to the state budget impasse, back to local communities.
"As a former city official, I know firsthand the difficult decisions many of these municipalities were forced to make due to the lack of leadership in Springfield. It is past time that these tax dollars were sent back to the local communities they came from, to help avoid layoffs and property tax hikes," said Murphy.
While state officials have not provided exact totals on the amount communities are owed, in 2014, Des Plaines, for example, received over $1.4 million. Last year's totals for other communities in the area included:
• Schaumburg $1.8 million
• Hoffman Estates: $1.2 million
• Hanover Park: over $940,000
• Park Ridge: over $920,000
• Elk Grove Village: over $820,000
The proposal also included funding to pay lottery winners, fund breast cancer research and road salt for state highways.
"This is a significant first step but it is only that – a first step. While I am encouraged that we were able to come together in a bipartisan fashion for these essential services, there is still work to be done to ensure that working and middle-class families in Illinois are not getting squeezed and that services are funded for the vulnerable members of our state, such as individuals with developmental and intellectual disabilities, rape victims and college students in need of MAP grants," Murphy said.
Senate Bill 2039 will now head to the governor's desk.